How to Give A Wedding Toast
How many times have you been to a wedding that was quite memorable? Take a minute and think. Has it ever been because of the wedding toast? We are pretty sure, your answer is no. What makes a wedding memorable for us is the love and warmth we feel in the environment and if it is a Nigerian wedding or you are Nigerian, the Jollof is another reason a wedding can memorable to you.
Here a few tips on how that would turn the "toast" you have prepared for that wedding to tasty Jollof.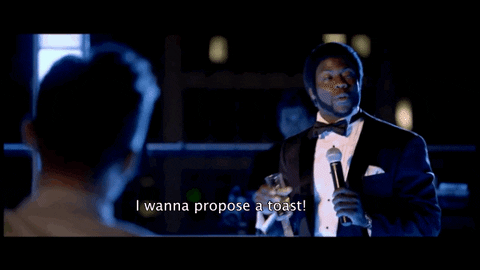 Speak calmly into the microphone and attempt to get everyone's attention without causing a nuisance. You can say "Hello Everyone, Can we please settle down, as I would like to give a toast to a couple of the day"

Keep it brief, as much as it would be beautiful to walk down memory lane and remember how the groom used to be a shy person and how his mum used to tell him that if he never came out to play with other children, he would not find a wife. Do remember that other guests want to drink and keep celebrating and counting down to the end of this segment. You can summarize everything you want to say into two short phrases. For Example, "There is a popular saying that he who finds a wife, has found a good thing and has found favour in the eyes of God. I must say my dear friend that you have not only found a wife but a soulmate, who is not just a good thing but the best possible thing to happen to you in this season, May Favor never depart from your home".

Be Considerate and Focus on Giving Compliments: You might be tempted to relieve some funny memories but don't give in to that temptation as you might end up embarrassing the couple or irritating the crowd or laughing alone, Remember to highlight the good parts of the couple on this their special day. Now one likes a Debbie Downer

Be Sincere: Even though we suggest you work with compliments, do not give compliments that are not sincere as the guests can read through you and avoid having a fake smile. People notice these things.

Have Good Manners: Do not drink till you have given the toast, If eating would make you nervous, please avoid a meal before the toast. Respect the time given to you and also ensure not to make any crude jokes.

Practice, Practice, and Practice. Keep reciting the toast till you get it. So you don't forget your lines or have to look at a paper when giving a toast.